Before having a coronary angioplasty, you'll have a complete pre-operative assessment to make sure the procedure can be carried out safely and it is in your best interest to have this operation.
During this assessment, you will have ample opportunity to discuss with me details of the procedure, alternatives to this treatment and any concerns you may have. In this visit, you will also have blood tests a general health check to ensure you're suitable for surgery.
Most often you would already have had a procedure called a coronary angiogram before your angioplasty. An angiogram is done first to look inside your arteries to check where the blockages are. (Please click here to know more about a coronary angiogram). Sometimes I will do the angiogram first and then continue on to do the angioplasty as part of the same procedure.
Pre-operative preparation:
Do not eat or drink anything from mid night the day of the procedure.
You may take your usual medications early in the morning with half a glass of water.
If you are on blood-thinning medications called anticoagulants (warfarin, dabigatran, apixaban, rivaroxaban or edoxaban) you need to stop these for a period (usually 2 days) that I will specify at the pre-op visit.
You may also need to alter the timing of any diabetes medication you take- particularly insulin- please ask me or one of my team about your morning dose of insulin before you administer it yourself.
The area of access (wrist or groin) will be cleaned and shaved of any hair.
Please ensure that you use the restroom before coming to the procedure room as you will be expected to lie flat and still on a narrow table for the entire duration of the procedure you will be administered dye and fluids as appropriate
The nursing/para-clinical team will do a checklist of all relevant things before you are taken to the procedure room (cardiac catheter lab)- please feel free to ask them any doubts that you may have.
A coronary angioplasty usually takes place in a room called a catheterization laboratory, rather than in an operating theatre. This is a room fitted with X-ray equipment to allow me to visualize and monitor the procedure on a screen.
A coronary angioplasty usually takes between 30 minutes and 2 hours, although it can take longer.
You'll be asked to lie on your back on an X-ray table.
You'll be attached to a heart monitor, BP cuff and Pulse Oxymeter to keep an eye on your vital statistics during the procedure.
The procedure will be done under a local anaesthetic to numb your skin.
An intravenous (IV) line will also be inserted into a vein, in case you need to have fluids, painkillers or a sedative.
I will make a small incision in the skin of your groin, wrist or arm, over an artery where your pulse can be felt. A small tube called a sheath is inserted into the artery to keep it open during the procedure.
A catheter is passed through the sheath and guided along the artery into the opening of your left or right coronary artery.
A thin, flexible wire is then passed down the inside of the catheter to beyond the narrowed area. A small balloon is passed over the wire to the narrowed area and inflated for about 20 to 30 seconds. This squashes the fatty material on the inside walls of the artery to widen it. This may be done several times and I may need to use several balloons to achieve this.
While the balloon is inflated, the artery will be completely blocked and you may have some chest pain. However, this is normal and is nothing to worry about. The pain should go away when the balloon is deflated. You shouldn't feel anything else as the catheter moves through the artery, but you may feel an occasional missed or extra heartbeat. This is nothing to worry about and is completely normal.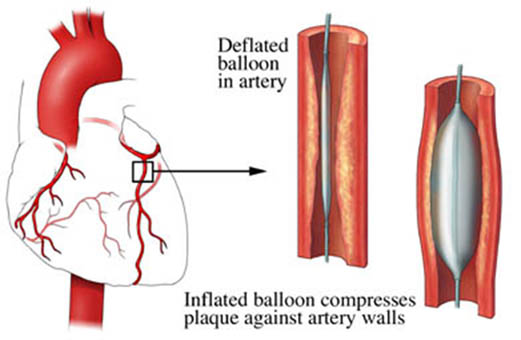 If you're having a stent inserted (see below), it will be already fitted onto a bespoke balloon as a single composite unit and the stent opens up as the balloon is inflated. The stent will be left inside your artery after the balloon is deflated and removed.
When the operation is finished I will check that your artery is wide enough to allow blood to flow through more easily. This is done by monitoring a small amount of contrast dye as it flows through the artery.
The balloon, wire, catheter, and sheath are then removed and any bleeding is stopped with a dissolvable plug or firm pressure. In some cases, the sheath is left in place for a few hours or overnight before being removed.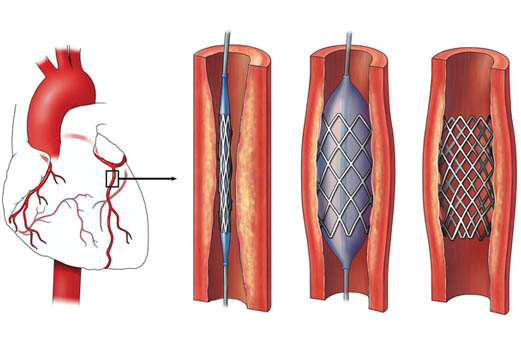 Going home
A coronary angioplasty often involves an overnight stay in hospital, but on rare occasions may need a longer stay.
After the operation, you will be advised not to do a strenuous activity such as lifting heavy weights and also abstain from driving for 1 week.
After a week you will be able to do all normal activities and you may be able to come of some of the medications given to control angina as the newly open artery will improve blood flow.
Coronary Stents Explained
A stent is a short, wire-mesh tube that acts like a scaffold to help keep your artery open. There are 2 main types of stent:
1) Bare Metal (uncoated) Stent
2) Drug-Eluting Stent – which is coated with medication that reduces the risk of the artery becoming blocked again
The biggest drawback of using bare-metal stents is that over a period of time the arteries begin to narrow again. This is because the immune system sees the stent as a foreign body and attacks it, causing swelling and excessive tissue growth around the stent.
It's possible to avoid this problem by using drug-eluting stents. These are coated with medication that reduces the body's abnormal response and tissue growth. However, this also delays the healing of the coronary artery around the stent and means it's vitally important to keep taking 2 blood-thinning tablets (aspirin and a super-aspirin called clopidogrel, ticagrelor or prasugrel) for up to 1 year after the procedure.
This helps reduce the risk of a blood clot blocking the stent suddenly and causing a heart attack.
Once a drug-eluting stent is in place, the medication is released over time into the area most likely to become blocked again. The 2 most researched types of medication are:
"Limus" Medications(such as sirolimus, everolimus, and zotarolimus) – which have previously been used to prevent rejection in organ transplants
Paclitaxel – which inhibits cell growth and is commonly used in chemotherapy
EXAMPLES: RECENT CASES WHERE CORONARY ANGIOPLASTY AND STENT INSERTION HAS BEEN DONE SUCCESSFULLY (BEFORE AND AFTER STENTING PICTURES)
A)RIGHT CORONARY ARTERY STENTING- BEFORE (LEFT) AND AFTER (RIGHT)

B. RECONSTRUCTION OF A COMPLETELY OCCLUDED (CTO) RIGHT CORONARY ARTERY

C. ANGIOPLASTY WITH STENTING OF LEFT CIRCUMFLEX CORONARY ARTERY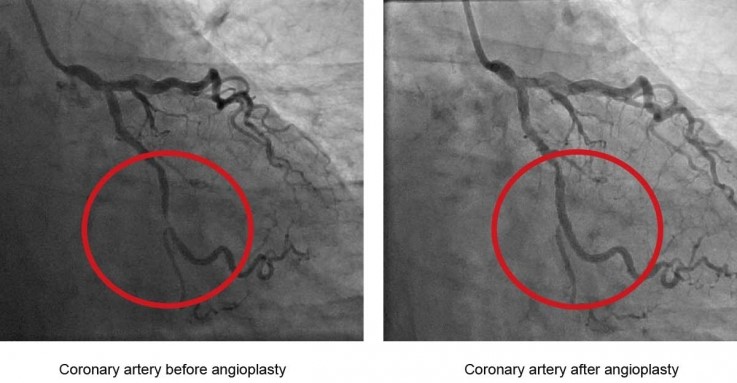 D. ANGIOPLASTY AND STENTING OF NEAR TOTAL OCCLUSION WITH LONG STENOSIS IN LEFT ANTERIOR DESCENDING CORONARY ARTERY